Flash Sales! Up to 15% OFF CS500 Series and Savi Series Headsets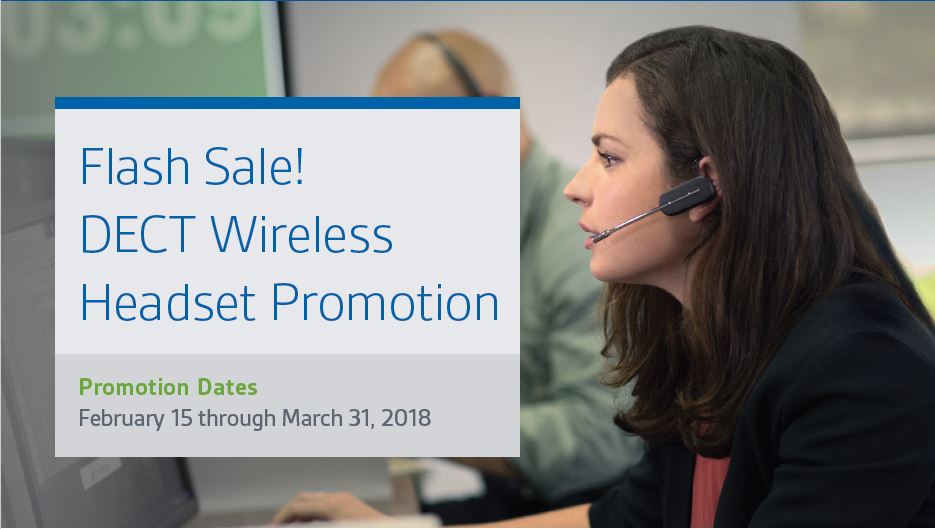 CS500 and SAVI Series Headsets | UP TO 15% OFF
Coupon : DECTQ118
Promotional Period : Feb 15, 2018 - Mar 31, 2018
Flash Sale! CS500 Series and Savi Series headsets! Through March 31, 2018, Buy any of the CS500 or Savi Series Headsets and Get Up to 15% Off.
CS500 Series
Ideal for the office desk professional, delivers premium audio quality, offers superior call management, and is DECT certified. With one-touch call answer/end, vol+/-, and mute, manage calls from up to 350 feet from the charging base.
SAVI 400 AND 700 SERIES
Ideal for productivity-focused office professionals, offers multi-device connectvity (PC, mobile and desk phone), ensures seamless connectivity, and provides premium sound quality. The Savi 700 Series also offers one-touch call answer/end, vol+/-, mute and flash, and manages calls from any connected device up to 350 feet from the charging base.
Qualifying Headsets:
CS500 Series
CS510/CS510-XD
CS520/CS520-XD
CS530/CS530 HL10
CS540/CS540-XD
CS545-XD
SAVI 400 Series
SAVI 410/410-M
SAVI 420/420-M
SAVI 430/430-M
SAVI 440/440-M
SAVI 445/445-M
SAVI 700 Series
SAVI 710/710-M
SAVI 720/720-M
SAVI 730/730-M
SAVI 740/740-M
SAVI 745/745-M
Quick Contact Form
Contact us. We'll get back to you shortly!
Terms & Conditions
Offer extended valid only for sales made in the US from February 15, 2018 through March 31, 2018
Must use offer code DECTQ118 at checkout. Does not stack with other promotional pricing.
Plantronics reserves the right to modify or cancel this promotion at anytime
If you have any questions about this program, please contact sales@unifiedcommunications.com or call us direct at 1-800-641-6416.