Polycom Launches Industry-First Cloud-Based Video Interoperability Service: Polycom RealConnect for Office 365

What is it?
Polycom RealConnect for Office 365 is the industry's first and only Microsoft-approved cloud-based solution that solves the age-old dilemma of making different video conferencing systems work together. Jointly developed with Microsoft, RealConnect enables Office 365 customers to leverage their existing video investments and integrates into the Skype for Business workflow, providing seamless connectivity in the Microsoft cloud between Skype for Business and standards-based endpoints.
Download the Polycom RealConnect Datasheet
How does it work?
RealConnect for Office 365 is hosted in Microsoft Azure cloud by Polycom and is operated and supported by Polycom. This service can be purchased in the Office 365 Portal. Users can be enabled from within Office 365 to benefit from the interop service and will be able to schedule meetings that can be joined by non-native meeting device endpoints.
For end-users, the familiar Microsoft Outlook scheduling workflow remains the same. The Outlook invitation for a Skype for Business meeting provides an extra link through which non-native devices can join. The devices are then able to reap all the benefits of a Skype for Business meeting: HD audio and video, as well as two-way desktop and application sharing.
The RealConnect solution leverages native Microsoft Outlook calendaring, bringing everyone together through click-to-join across devices. Meetings are enhanced by providing additional views of meeting participants (up to nine remote participants) or panoramic wide-shots.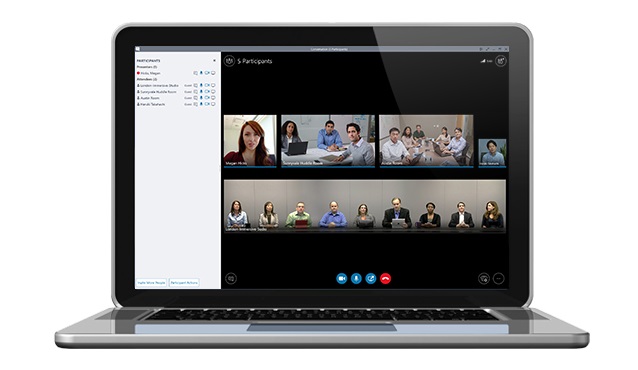 Benefits
User Benefits
Simple meeting workflow and natural Skype online meeting experience
Easy scheduling — Leverage Skype for Business scheduling workflow in Outlook
Click-to-join functionality — Single click-to-join for both Skype for Business clients and Polycom and Cisco endpoints or easy dial strings
Familiar meeting experience — Skype meeting layout including participant roster, content and video sharing, and panoramic video strip
Content sharing — Bi-directional content sharing
IT/Administrator Benefits
Protect existing video investments — Bring existing standards-based video systems into Skype for Business meetings
Flexible deployment options — Polycom RealConnect is available for Skype for Business on-premises, hybrid and Office 365 cloud deployments
Best end-to-end video interoperability solution centered around Skype for Business
Easy to schedule. Simple to join
Schedule meeting in Outlook and simply invite users or devices into the meeting
Click to Join meetings from personal devices or room video systems (One Touch Dial option available)
Skype for Business users see existing video systems in the same familiar Skype for Business call layout, in the participant roster, and can share content bidirectionally
Protects your existing video investments
Protect your video investments by connecting Cisco, Polycom or other video endpoints into a Skype for Business call
Bring immersive telepresence systems into a Skype for Business call with RealConnect
Easy to manage and provision
Easy initial activation via the Polycom app on the Office 365 marketplace
License provisioning and management through the Office 365 Admin Portal
Works with existing video infrastructure for call control and firewall traversal
Service is monitored and supported by Polycom
Skype Operation Framework Certified Partner — Additional services available to ensure a successful Skype deployment