Plantronics CS530 versus the CS70N
In May of 2011, Plantronics launched the new CS500 Series of wireless office headsets. The CS500 series offers upgrades to its predecessor (the CS Series) in both design and functionality. The CS530 replaces the popular CS70N.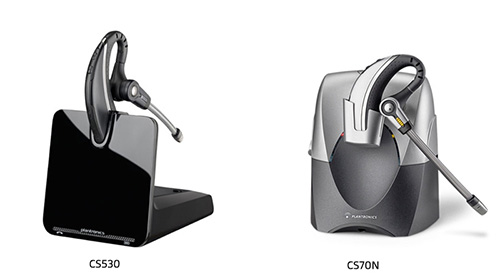 Here is a list of cool new features that you get with the Plantronics CS530 that you didn't get with the CS70N:
Sleek New Design – The CS530 features a new, modern look
Magnetic Charging Dock – Ensures the headset docks and charges every time, with ease
Auto Subscribe – Guest headsets can conference in by docking to the base station
Adaptive Power System – Battery output adapts depending on your proximity to the base, saving energy
Audio Upgrades – The CS530 features wideband audio, enhanced DSP and SoundGuard for crystal clear audio
The CS530 is available as a single headset system or bundled with the HL10 lifter. Limited quantities of CS70Nare available.